22 September 2020
Lobongo Lotika / Coconut Filled Envelopes Sealed with Clove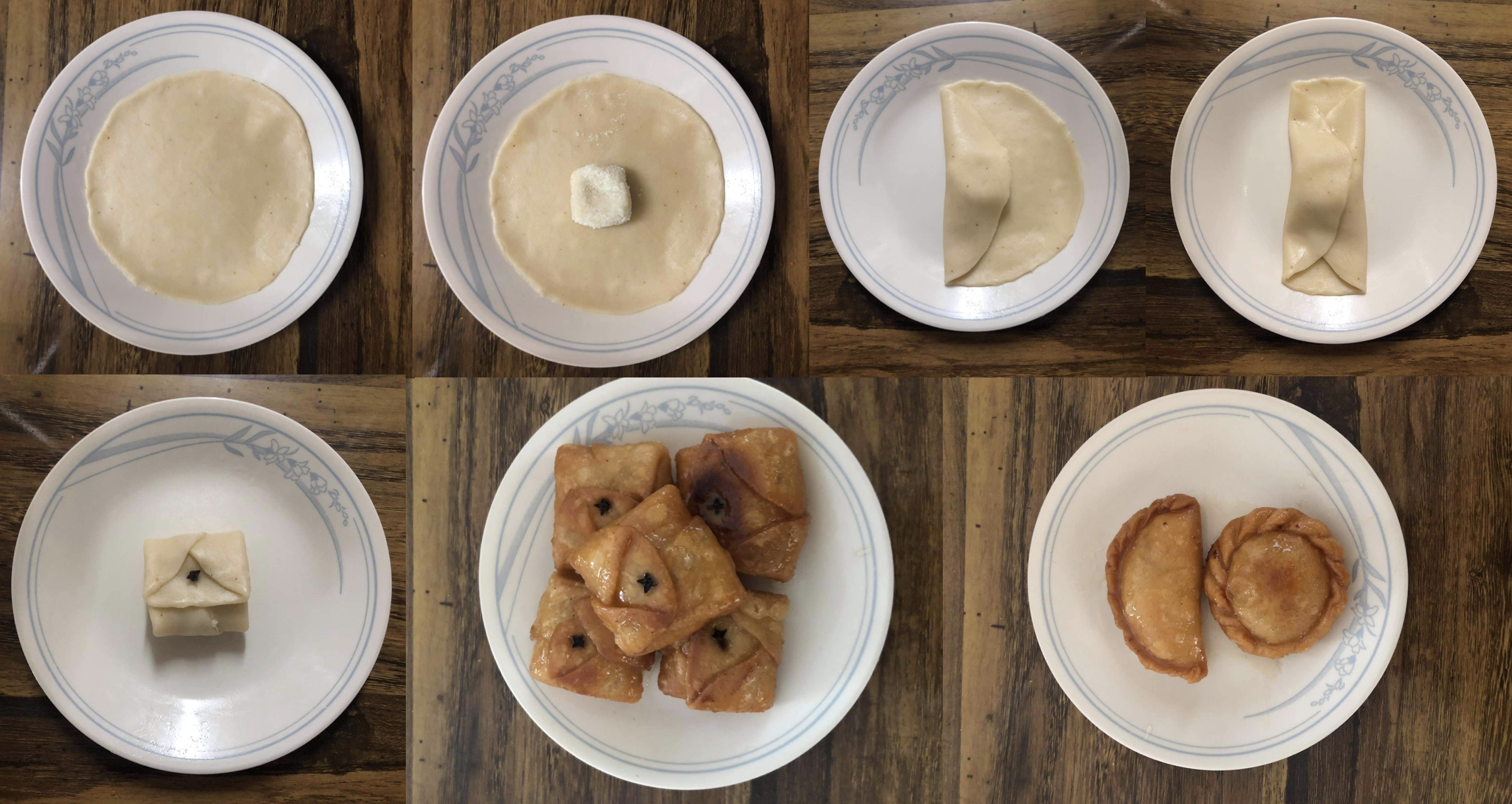 This is a very popular sweet, made all over India during festivals. Different names, different shapes but the main ingredients are almost the same.
Ingredients
Prerequisite - Narkoler chhai (coconut filling)
AP flour 2 cups.
Oil or ghee 1/4 cup.
Baking powder 1/4 tsp.
A pinch of salt.
Clove 15.
Unflavored oil 1.5 cup (for frying).
For the syrup
Sugar 2 cups.
Water 1 cup.
Directions
First let's prepare the dough. Take the flour, ghee, salt and baking powder. Mix until it feels like sand. Now add water (approximately 1/2 cup) to knead it. You need a soft but firm dough. Cover it and rest it for 30 minutes.
Let's make the sugar syrup. Add sugar and water in a pan. Heat the pan to a boil and continue until the sugar melts. The syrup for this recipe needs to be thick.
Now let's make the envelopes. Make 15 lemon size balls from the dough. Take a ball; with the help of a rolling pin roll it to discs of 5 inch diameter. You can dust a little flour on your counter top to roll them smoothly. Now take a spoon full of coconut filling and make a one inch square patty about 0.5 inch thick. Place it at the center of the disc. Then fold the disc as an envelope as shown in the picture—first from the left, then from the right, then flip it over and fold from the top, and finally from the bottom. Secure it by inserting a clove. Make all the envelopes this way. As per your choice you can shape them differently, as shown in the pictures—Chandrakala (half moon) or Suryakala (sun).
Now let's fry these envelopes. Take a frying pan and heat the oil in high heat. Then simmer to let the oil cool down little bit. The oil should be warm, not very hot. Fry the envelopes, 5-6 at a time. The goal is to get to a light brown color. This recipe requires a very slow frying process which ensures that the envelopes will cook well from inside. For each batch, it will take approximately 17-18 minutes to fry. When you are done, drain the oil by holding them along the edge of the pan. Then soak the fried envelopes in the sugar syrup for 10 minutes and take them out in a serving plate.
Enjoy!