05 April 2021
Veg and Non-Veg Biryani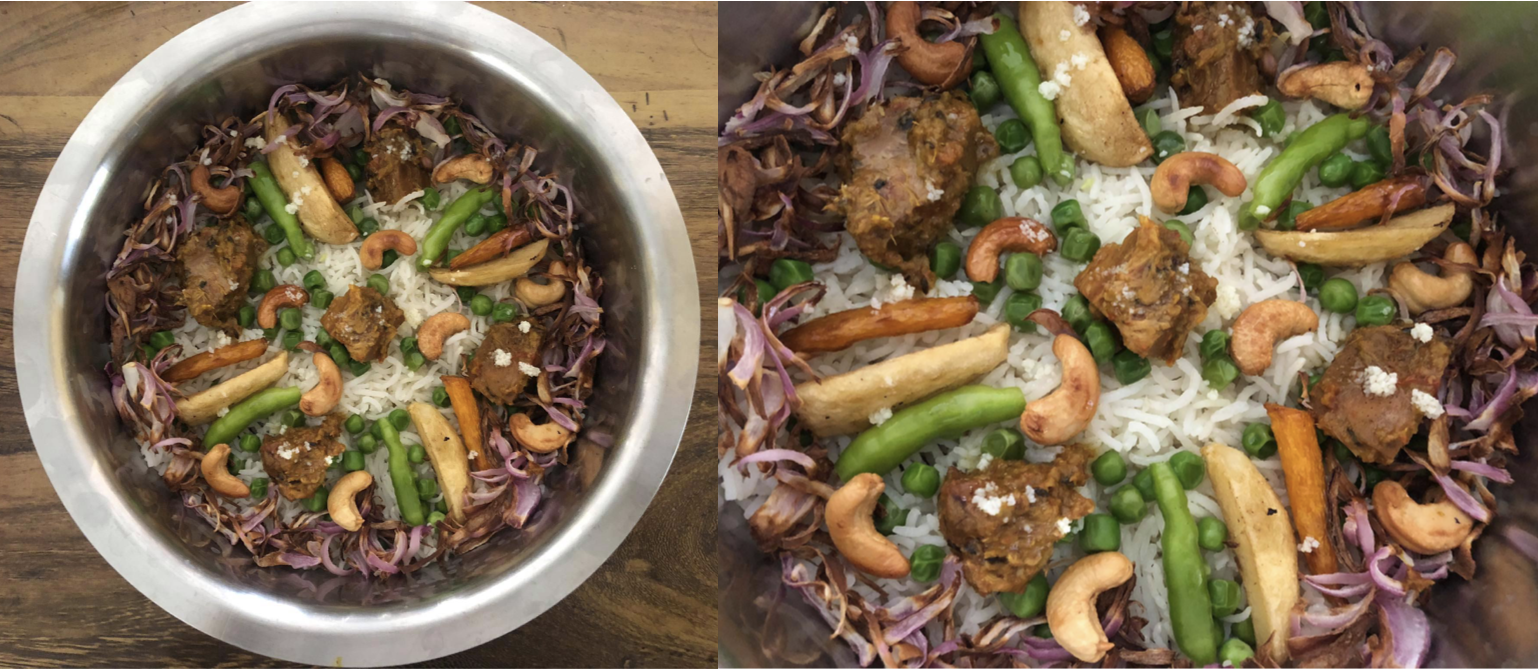 Basic Ingredients
Basmati rice 2 cups.
Potato 8 pieces (cut lengthwise)
Onion paste 1/2 cup
Onion 2 cup (Julienne cut)
Ginger paste 4 tsp
Garlic paste 3 tsp
Tomato 1 large (cut into small pieces)
Green chili 3
Cumin 2 tsp
Cumin powder 2 tsp
Dry red chili 2
Bay leaf 2
Black pepper corn 10
Green Cardamom 4
Clove 4
Cinnamon stick 2 inch
Garam Masala 1 tsp
Nutmeg a pinch (optional)
Saffron - few strands soaked in spoon full of milk (optional)
Turmeric 2 tsp
Red chili powder 1 tsp (optional)
Salt to taste
Kewra water 1 tsp
Rose water 1 tsp
Refined oil 1/2 cup
Ghee 2 tbs
Plain yogurt 2 tbs
Ingredients for vegetarian version
Paneer or Tofu 250g (cubed)
Green peas 1/4 cup
Carrots 1/4 cup (cubed)
String beans 1/4 cup (cut into 1 inch pieces)
Any vegetables of your choice
Ingredients for non-vegetarian version
Chicken or Mutton 500 g (cut into desired pieces)
Hard boiled egg 4 (cut into half)
Directions
Wash the rice and boil it until it is 80% done, then drain the water and keep it aside, uncovered.
In a heavy bottom pan heat the oil in medium heat and fry the julienne onion until crispy and golden brown. This fried onion is called "beresta". Keep them aside.
In the remaining oil fry the potatoes to golden brown and keep them aside as well. In the same oil (you can add more oil if needed) add cumin, black pepper corn, dry red chili, bay leaf, cinnamon stick, green cardamom, and cloves. Let them crack for few seconds; then add the onion paste, ginger paste, and garlic paste. Sauté for 2-3 minutes in low heat and add the cubed tomatoes, turmeric, red chili powder, garam masala, and cumin powder. Continue sautéing for another few minutes until the tomato turns mushy. You can sprinkle a few spoons of water so the mixture doesn't stick to the bottom. Now add the yogurt and salt and continue stirring for another 6-7 minutes. You can notice small oil bubble coming to the top of the mixture. Around this time, the aroma of the spices will be released and that should tell you it is time to add the chicken/mutton or the paneer/vegetables. Mix everything well and add a little water(1/2 cup) to cook. Cover and let the meat/paneer/vegetables become soft. We don't need a lot of gravy so be careful when adding water.
Now it is time to layer them. In an ovenproof pan, layer few spoons of rice to cover the bottom of the pan. Then place the chicken/mutton and a few halved eggs (or the paneer and vegetables) and the fried potatoes. Now sprinkle the saffron milk, nutmeg, ghee, Kewra water, rose water and a little salt. Repeat this process of alternate layering until everything is finished. Cover the pan with aluminum foil. Secure the corners well enough to lock the aroma in. Place the pan inside the oven for 30 minutes on 200 C. Let it stand for another 10-15 minutes on the counter. Open carefully and enjoy the biryani with raita!