04 October 2020
Cholay / Chana Masala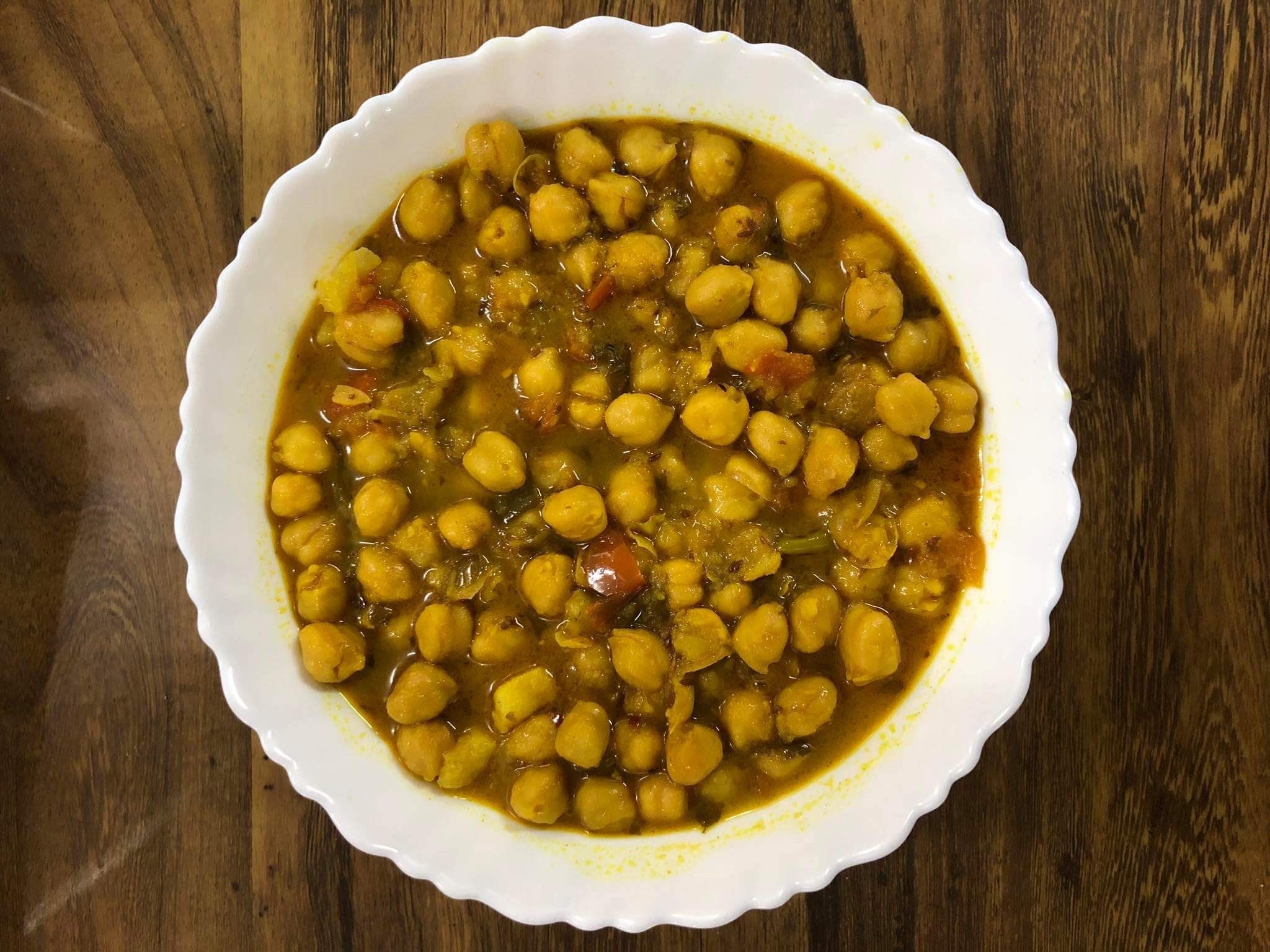 Ingredients
Dry chickpeas (chana) 1 cup or canned Garbanzo beans, drained 2 cups.
Onion 1 medium.
Garlic cloves 4-5.
Ginger 1 inch.
Tomato 1.
Oil 3 tbsp.
Cumin seeds 1/2 tsp.
Cumin powder 1 tsp.
Coriander powder 1 tsp.
Asafoetida (or heeng) a pinch.
Bay leaf 2.
Cardamom 3.
Cinnamon 2 inch stick.
Clove 4.
Green chili 3-4.
Black peppercorn 5-6.
Turmeric 2 tsp.
Salt to taste.
Kasuri methi / dry fenugreek leaves 1/4 tsp.
Directions
Wash and soak the chickpeas in 3 cups of water overnight. Boil the soaked peas in a pressure cooker for 10-15 minutes. You can also do it in a pan but it will take about an hour. Make sure they are soft but not mushy. Drain the water and keep the beans aside.
If you are using canned beans, all you need to do is drain and wash them since they are already cooked.
Take the onion, garlic, ginger, and tomato, and make a smooth paste in a blender (you can chop all of them very finely to make this process faster).
Take a heavy bottom pan and heat the oil in medium heat. Add bay leaf, cumin seeds, clove, cinnamon, cardamom, and peppercorns. Sauté for 1-2 minutes until the spices release their aroma. Now add the onion, garlic, ginger, and tomato paste and sauté for 3-4 minutes. Then add turmeric, cumin powder, coriander powder, asafoetida, and salt. In low heat sauté for 3-4 minutes or until the oil separates from the paste and starts to float on top. This indicates that the paste is no longer raw. You can add a few spoons of water to prevent the paste from sticking to the bottom of the pan. Now add green chilis, the boiled chickpeas and 1.5 cups of water. Let them boil for 10-15 minutes. Then add the dry fenugreek leaves and check the consistency of the gravy. If you want a thicker gravy, mash some of the chickpeas with the back of a spoon and let them cook for another few minutes.
Garnish with rings of onion or cream and enjoy with porota, luchi, or jeera rice!