28 September 2020
Soya Nugget Curry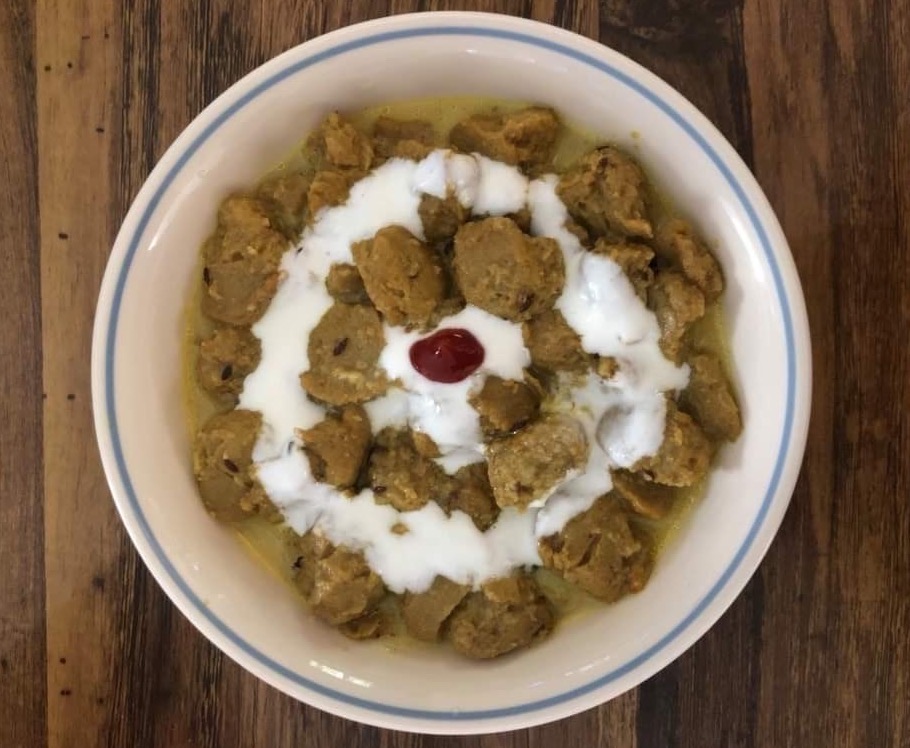 Ingredients
Soya nuggets 1 cup (common brand in India is Nutrela)
Potato 1/2 cup (cubed).
Tomato 1/2 cup (cubed).
Oil 3 tbsp.
Onion paste 2 tbsp.
Ginger paste 1 tsp.
Garlic paste 1 tsp.
Green chili 2.
Cumin seed 1/2 tsp.
Cumin powder 1/2 tsp.
Bay leaf 1.
Turmeric 1 tsp
Garam Masala 1/2 tsp.
Lemon juice 1 tbsp.
Salt to taste.
Directions
Soak the nuggets in hot water for 30 minutes. Squeeze and rinse 2-3 times. In a cooking pan, heat the oil in medium and add cumin seeds and bay leaf. Let them crack. Then add onion paste, ginger paste, garlic paste. Sauté for 2-3 minutes. Then add the cubed tomato, turmeric, cumin powder, garam masala, salt, and chili. Continue stirring until the oil separates and starts to float on top of this mixture of ingredients. This indicates that the mixture is cooked. Now add the nuggets and potato. Stir for 2-3 minutes and add 1.5 cups of water. Cover and let them cook until the potatoes and nuggets get soft and the gravy becomes thick. Turn off the heat, add the lemon juice, and mix well. You can garnish with fresh cream or yogurt.
Enjoy with Jeera Rice!