16 August 2020
Chhanar Dalna / Soft Paneer and Potato Curry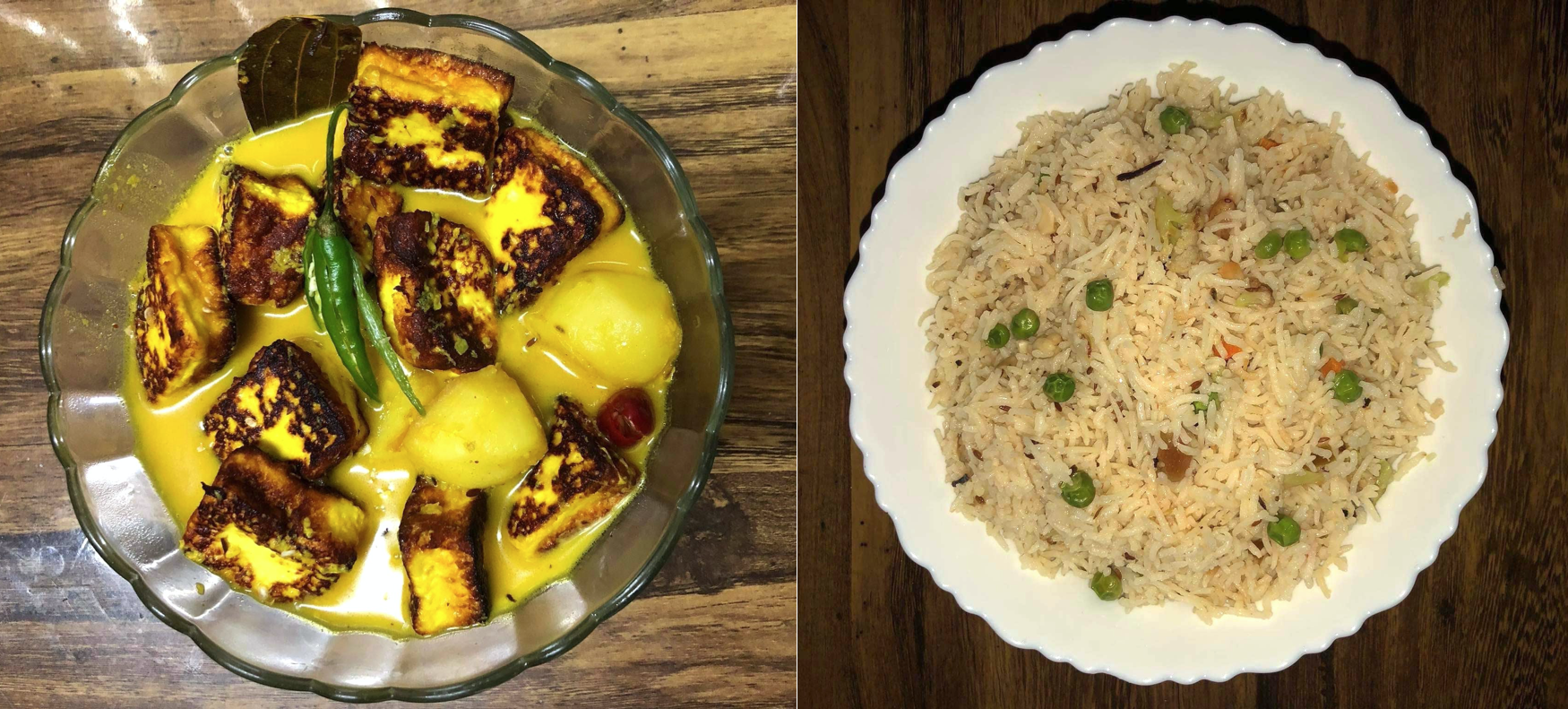 Ingredients
Whole milk 1 lt + 2 tbs.
Potato 1 skinned and cut into 6 pieces.
Cooking oil 4tbs.
Ginger paste 1tsp.
Tomato 1 cut into small cubes.
Whole cumin 1/2 tsp.
Cumin powder 1/2 tsp.
Dry red chili 1.
Bay leaf 1.
Turmeric 1/2 tsp.
Salt to taste.
Sugar 1/4 tsp.
Vinegar 2 to 3 tsp.
Clean cotton cloth.
Directions
To make chhanar dalna I prefer chhana not paneer (paneer is the dry and hard state of chhana). Lets prepare the chhana. Take a sauce pan and pour 1 lt milk and turn on the heat. Let it come to a boil then turn off the heat. Mix the vinegar with equal amount of water and slowly pour it into the milk and watch how it starts coagulating. Stir gently. In a strainer, place the cotton cloth and pour the chhana. You can save the yellow water for other use ( such as kneading flour, making soup etc). Now wash the chhana with cold water and secure the cloth with a knot. Place it in to a flat area preferably in the sink and put a weight to discard the water for around 30 minutes. Cut the chhana into squares.
Now take the oil in a pan and heat it to fry the potato till light brown, keep them aside. In the same oil now fry the chhana squares till golden brown and keep them aside. Temper remaining oil with bay leaf, dry red chili and cumin seeds and fry for few seconds. Now add tomato, ginger paste, turmeric, salt and sugar. Let them cook for 4 to 5 minutes in low heat till the raw tomato smell disappears completely. With a ladel stir well. If needed, add a little water to keep the mix from sticking to the pan. Now add 2 cups of water and add the potato. Cook until they're soft. Add the fried chhana, 2 tbs milk (this makes the gravy slightly creamy), and garam masala. Then cook for another 2 minutes.
Enjoy with (fried) rice!