02 August 2021
Eggless Chocolate Cake with Ganache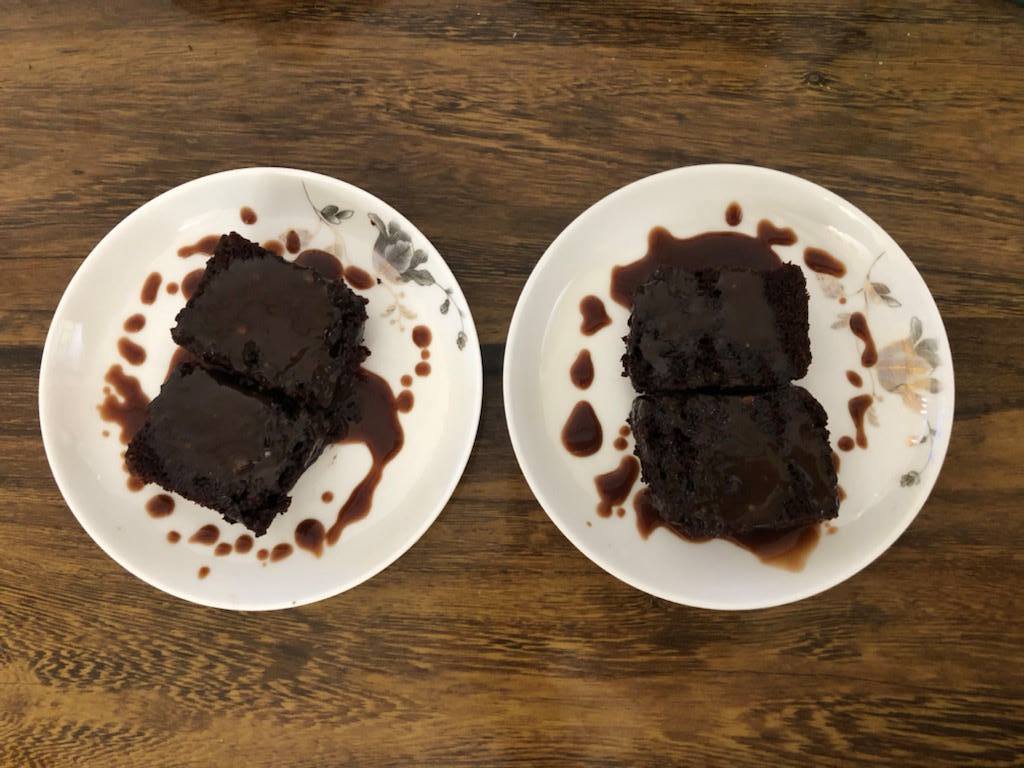 Ingredients
For cake

All purpose flour 2 cups
Sugar 1 cup
Cocoa powder 1/2 cup
Unflavored cooking oil 1/2 cup
Baking powder 1.5 tsp
Baking soda 1 tsp
Salt 1/4 tsp
Any kind of milk or even water 1.5
Vinegar 1 tbs

For Ganache

Dark or semi-sweet chocolate 1/2 cup
Any kind of milk or cream 1/2 cup
Powdered sugar 2 tbs (optional)
Butter (or vegan butter) 1 tbs
Directions for the cake
Prepare a 9" baking pan by rubbing a few drops of oil and dusting some flour or cocoa powder. Preheat the oven. In a mixing bowl, mix the first 7 ingredients. The order of these 7 ingredients does not matter too much. After mixing them, add the milk (any milk is fine, or you can even use water) and mix well with a hand mixer or a wire whisk for 3 minutes. If the batter is too thick, you can add few tsps of water. Now add the vinegar and mix for 30 seconds. You should see bubbles forming. Pour the mix into the prepared pan and place it in the preheated oven. Bake for 35 to 40 minutes in 180 C (or ~ 350 F). Remove the pan from the oven and insert a toothpick in the center to check whether it is fully cooked or not. If it comes out clean, it is done! If it does not, then cover the pan with foil and bake for another 5-10 more minutes. Let it cool for half an hour, run a knife through the sides of the tin and invert the cake on a plate.
Directions for the ganache
In a sauce pan heat the milk or cream. Take the chocolate in a bowl and pour the hot milk or cream in it. Let the chocolate become soft then stir it slowly until it become smooth. Add the sugar and butter and mix it well. Your ganache is ready to use.
Cut the cake horizontally into two or three layers like so: place one palm on top of the cake and with a wide knife slowly cut the layers. You can also use dental floss to cut a cake horizontally. Now sprinkle generous amounts of ganache on top of each layer and stack them. On the top layer, pour as much as you would like. Garnish with grated chocolate.
Enjoy this eggless cake with coffee or milk or whatever you prefer!