19 April 2021
Date and Nut Laddoo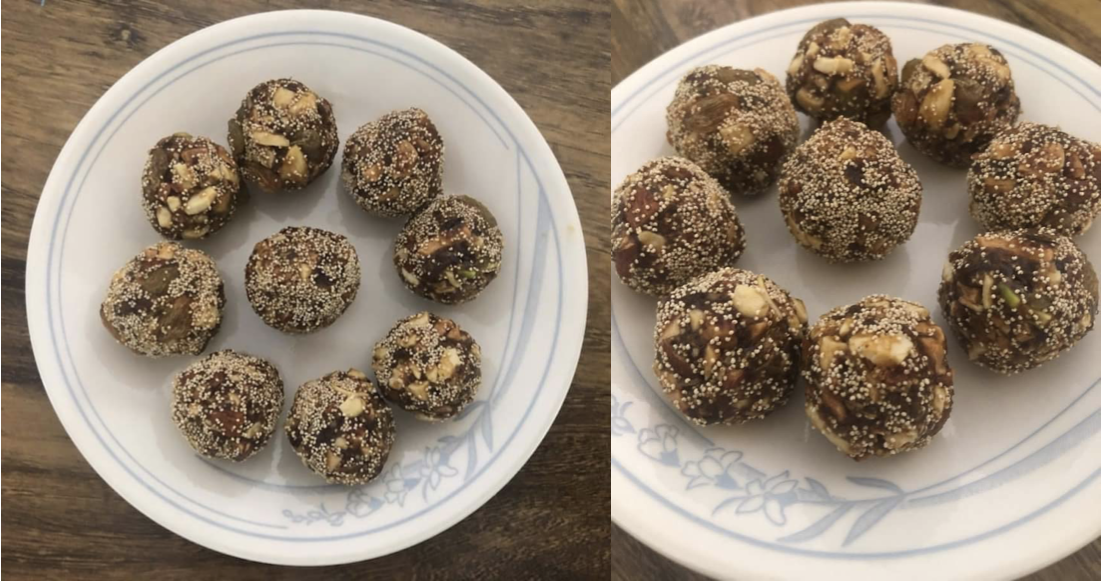 Ingredients
Date 1 cup
Almond 1/4 cup
Cashew 1/4 cup
Pistachio 1/4 cup
Raisin 1/4 cup
White poppy seeds 2 tsp
Ghee 2 tsp
Directions
Remove the seeds from the dates and make a paste with the help of a mixer. You can add 1-2 spoons water if needed. Now break all the nuts in to small pieces (not powder). In a heavy bottom pan dry roast the poppy seeds just for a minute and keep them aside in a plate. In the same pan heat 1 tsp ghee; in very low heat roast all the nuts for few minutes until they become crunchy (don't let them change color). Keep the roasted nuts aside. In the same pan add the remaining 1 tsp ghee and mix the date paste. Use a spatula to sauté the dates for 2-3 minutes. Now mix the roasted nuts and the raisins and sauté for another 2 minutes or until they become like a dough. Turn off the heat. Grease your palms with few drops of ghee and start making small balls while it is warm and roll them in roasted poppy seed.
Enjoy as a dessert or snack!
Note: Dried figs and apricots could be mixed with dates for extra nutrition and taste. As per your choice, you can try these balls with only one kind of nut.