16 September 2020
Balushahi / Indian Doughnut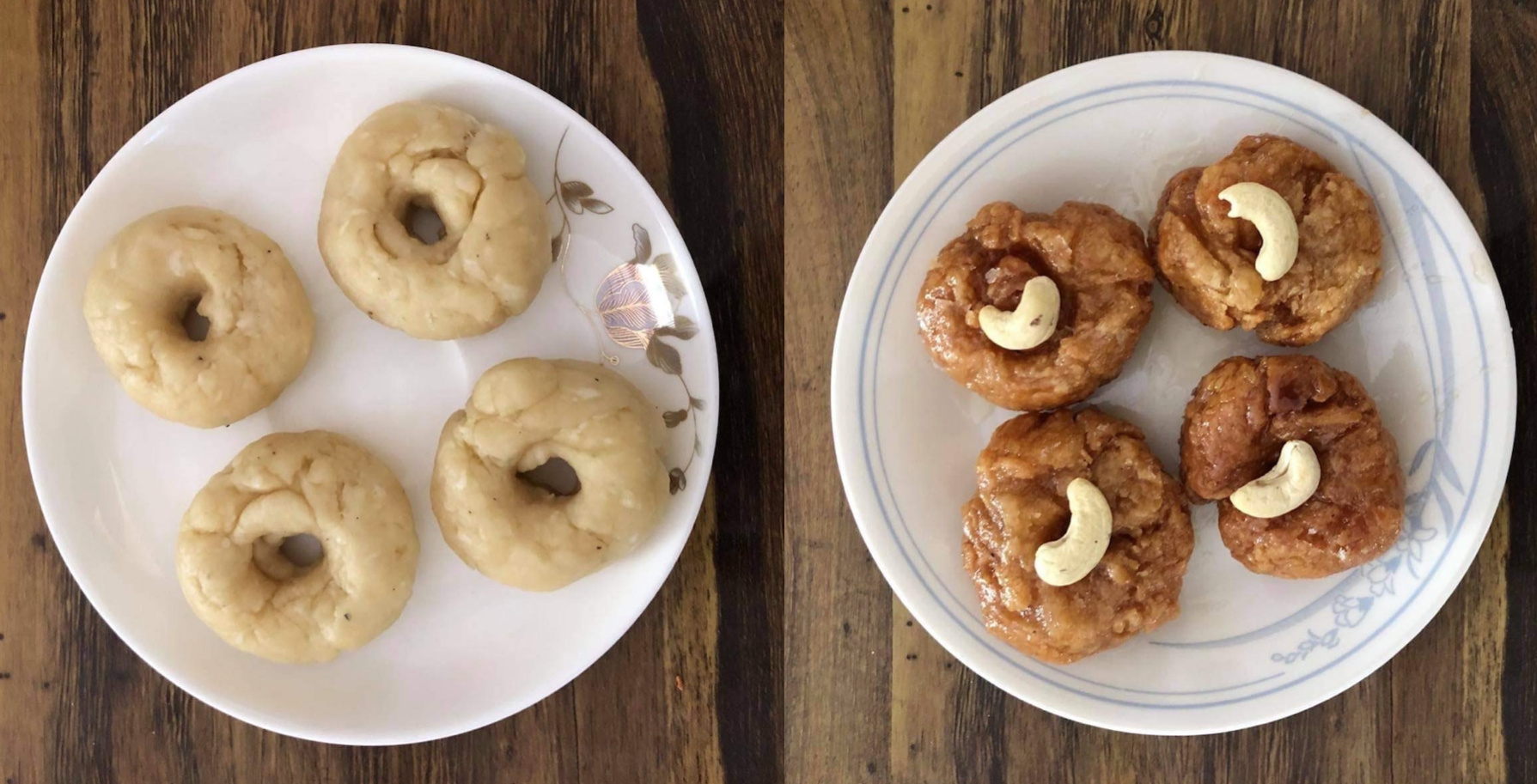 Ingredients (for 18-20 pieces)
AP flour 2.5 cups.
Ghee or oil 1/2 cup.
Baking powder 1 tsp.
Yogurt 1/2 cup.
Salt 1/4 tsp.
Sugar 2 cups.
Water 1 cup.
Cardamom 2. (Crushed)
Oil (for frying) 2 cups.
Directions
In a flat bottom pan, take the sugar and water. Heat the pan in medium heat and let the contents boil to make a syrup. As soon as the sugar melts, add the cardamom and turn off the heat. Keep aside this thick syrup you just made.
Let's make the dough. Take the flour, baking powder, salt, oil (or ghee), and the yogurt in a bowl. You don't need to knead the dough for balushahi. Instead, with your two palms gather all the ingredients together. If needed, add 1-2 tsp water. No dry flour should be left. Cover the dough with a wet cloth for 30 minutes.
Now, take a frying pan and heat the oil in high heat, then simmer to let the oil cool down a bit. Now place the dough in a working surface and knead with light pressure for 1 minute. Next, we need to make the dough have layers. For that, do the following: (1) tear apart the dough into two equal parts; (2) stack the parts on top of each other; (3) gently apply some pressure to make them stick together; (4) flatten the resulting dough gently with your palm; Repeat these steps about 8-10 times. After this process, divide the dough into 18 - 20 small lemon size pieces. Roll the pieces between your two palms to make round balls, then press lightly to make a disc of 1 cm thickness. Make a hole in the center with your index finger. Do the same with all the balls. To fry the balushahi, the oil should be warm (not hot!). The oil is ready when you can see tiny bubbles forming in it. Now it is time to drop the pieces in the oil one by one. Don't fry too many together—allow some space because they will double in size. Let the bottom of each piece fry to golden brown (should take 7-8 minutes) in low to medium heat. Do not need to disturb them! Then flip the pieces and fry the other side. Both sides should reach a nice golden color. It will take approximately 20-25 minutes. Frying balushahi is a very slow cooking process. When they are ready, the balushahi will almost be double in size. Take them out from the oil and dip into the warm sugar syrup. Soak both side for 4-5 minutes.
Take them out in a serving plate and enjoy! You can decorate with nuts!