21 February 2021
Moong Dal Khichudi / Moong Dal and Rice One Pot Meal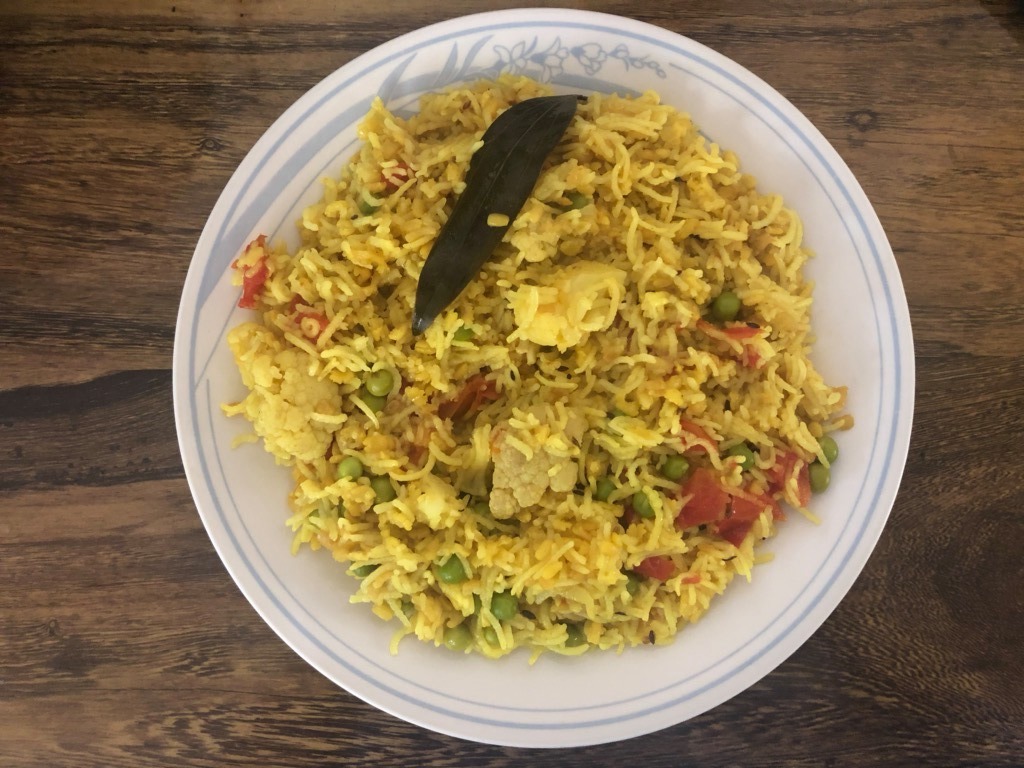 Ingredients
Basmati rice 1/2 cup
Yellow moong lentil 1/2 cup
Green peas 1/4 cup
Potato 1, cut into four pieces
Cauliflower florets 1/2 cup
Tomato 1, cut into small pieces
Green chili 2
Ginger 1/2 tsp (grated)
Cumin 1/4 tsp
Dry red chili 1
Bay leaf 1
Turmeric 1/4 tsp
Oil or ghee 1 tsp
Salt to taste
Ghee 1 tsp (optional)
Directions
In a heavy bottom pan dry roast the lentil until it is aromatic and very lightly brown. Wash the rice and dry-roasted lentil and soak it for half an hour. Then drain the water. Heat a pan and add oil or ghee. For tempering, add cumin, dry red chili, and the bay leaf. Let them fry till they start changing color (usually no more than a few seconds). Then add everything, mix with a spatula, and fry for a minute or two. Add 2.5 cups of water and let everything cook until the lentils become soft. You can adjust the water as per your desired consistency. Adding 1 tsp of ghee on top of the hot khichudi will definitely enhance the taste.
Enjoy with tomato chutney and jhirijhiri aloo bhaja!
Note: Khichudi is a one pot meal cooked with rice and vegetables. It has different variations — some are spicy, some are very rich in flavor, and they also vary in consistency. Khichudi is easy to cook and also easy to digest. It's a good / wholesome meal for recovery.
EDITED ON 2021-10-14: It is Durga Pujo right now and today is Ashtami! I made the khichudi slightly differently — this is how I typically make during Pujo. See below for details.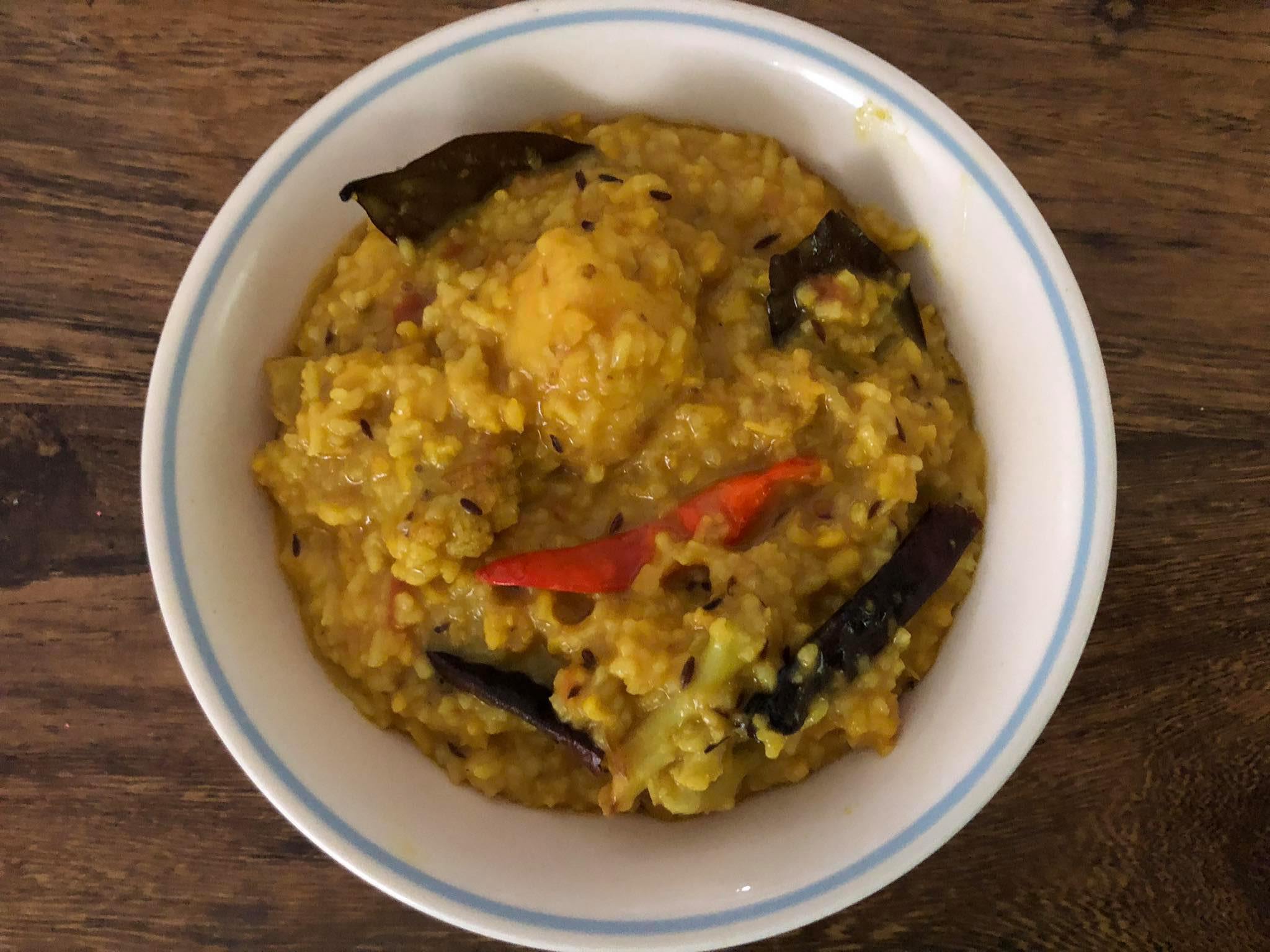 Heat a frying pan and add the moong dal. Dry roast it for 3 minutes in medium heat, no need to brown it. Take it out and mix it with the rice and wash it 3-4 times. Then soak it for an hour. Then drain the water in a strainer.
In a heavy bottom pan take the oil and fry the potato and cauliflower golden brown. Then keep them aside. In the same oil add cumin, dried red chili, bay leaf, cardamom, clove and cinnamon. Fry until aromatic. Then add tomato, ginger and turmeric. Keep the heat in low and fry them until the tomato get soft. Add a little water while frying and cover. When the mixture is well fried and the oil separates to the top, take out two spoons of the mixture in a bowl for later use.
Boil 4 cups of water in a saucepan. You might not need all of it. Now add the strained rice and dal in to the pan with the remaining mixture and fry for 2-3 minutes. Add salt, the fried potatoes, and 2 cups of water. Mix well, cover and let it cook for 8-10 minutes in low heat. Now add the green peas and 1 cup of water, mix again and let it cook for another 10 minutes. Stir it occasionally. Check if the dal is cooked well — it should be soft but not broken. Now add the remaining spice mixture that you saved earlier, fried cauliflower and sugar, give it a nice stir, add a bit of water if needed and cook for few more minutes.