18 September 2020
Pasta with White Sauce and Vegetables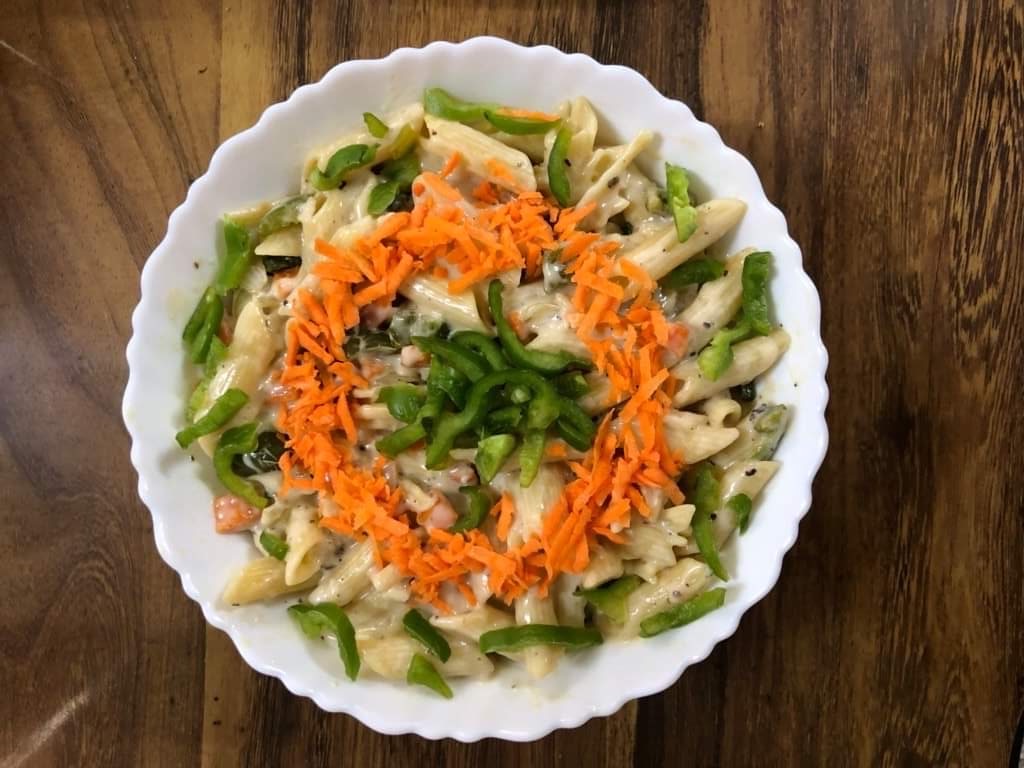 Note: Pasta doubles in size after cooking. You can use about 3-4 types of vegetables as per your choice. For e.g. bell peppers, broccoli, peas, cauliflower, mushrooms etc. You can make this vegan by using non-dairy milk. For extra flavor you can add cheddar or mozzarella cheese.
Ingredients
Penne pasta 1 cup.
Mixed vegetables (cut into bite size) 1 cup.
AP flour 2 tsp.
Oil 2 tbsp.
Butter 2tsp.
Onion 2 tbsp. (chopped)
Garlic 1tsp. ( chopped)
Ground black pepper 1/2 tsp.
Salt to taste.
Chili flakes 1/2 tsp.
Oregano 1/2 tsp.
Milk 1.5 cup.
Directions
Cook the pasta as instructed on the box. Drain and drizzle 1 tsp oil and mix it well. Keep the pasta aside. In a sauce pan, melt butter in low heat. Add chopped garlic and sauté for 30 seconds. Now add the flour, oregano, chili flakes, salt, and pepper. Stir well for 1 minute, then remove from heat and add milk, stirring constantly with a wire whisk. Place the pan back on the stove and cook for 1-2 minutes on medium heat to make a thick smooth sauce. Remove the pan from heat. Now, in a large pan heat the remaining oil and sauté the onions and all the other vegetables for 3-4 minutes or until they are cooked but still a little crunchy. Now add the pasta and the white sauce and mix well. Turn off the heat. Serve hot!