11 September 2020
Chingri Malaikari / Prawn in Coconut Sauce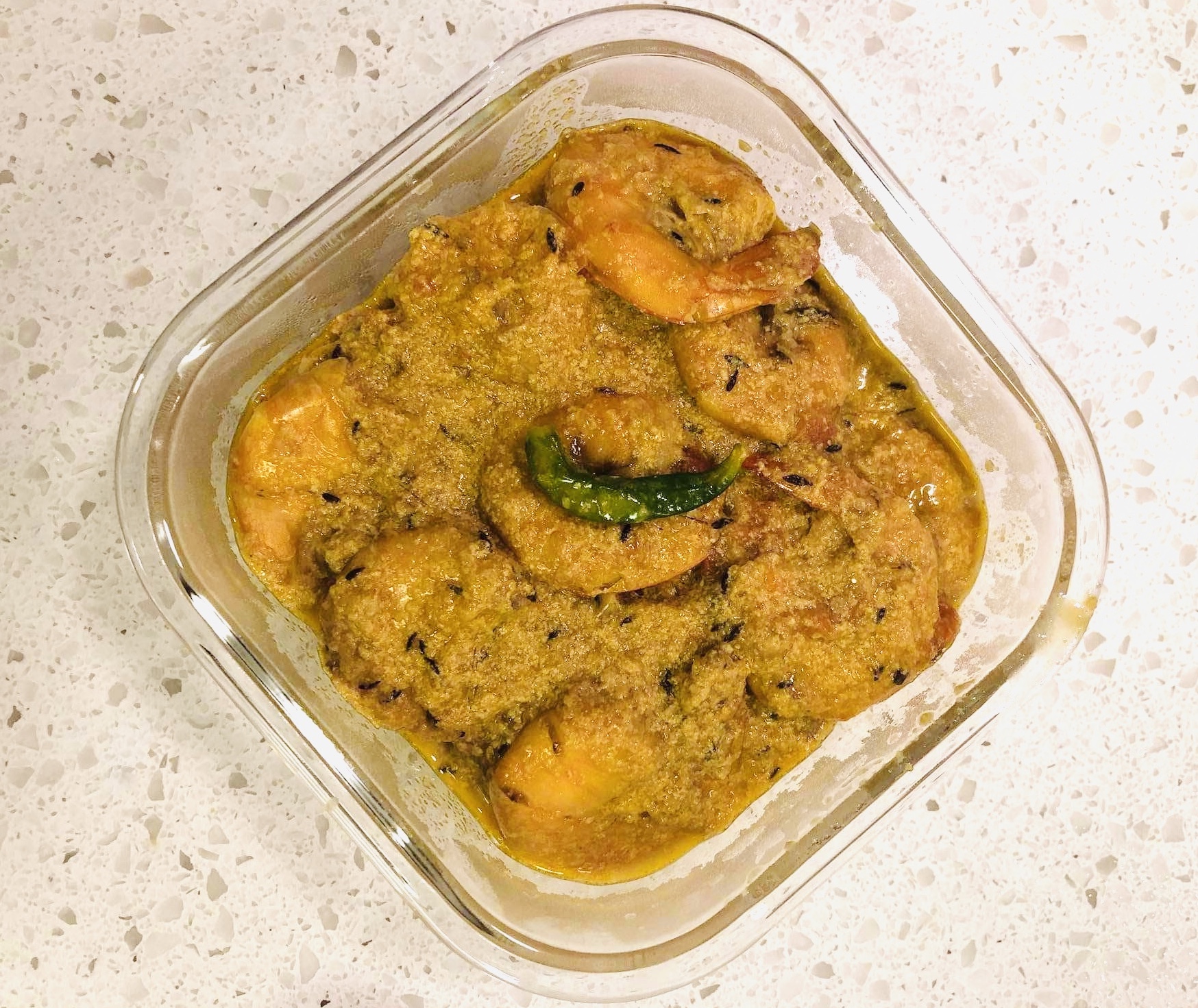 Ingredients
Prawn 1 lb.
Coconut milk 1 cup.
Cooking oil 1/4 cup.
Cumin seeds 1/4 tsp.
Onion paste 1/4 cup.
Ginger paste 1 tsp.
Green cardamom 2.
Clove 2.
Cinnamon stick 1 inch.
Bay leaf 1.
Green chili 2.
Ghee 1 tsp. (Optional)
Turmeric 1.5 tsp.
Sugar 1 tsp.
Salt to taste.
Garam Masala 1/4 tsp.
Directions
Devein and wash the prawns. Marinate the prawns with 1 tsp turmeric and 1 tsp salt for 15 minutes. In a heavy bottom pan heat the oil in medium. With a kitchen towel, pat the marinated prawns dry and fry them for less than a minute, just to impart the bright orange color. Remember, the longer you fry the prawns the tougher they will become! Keep them aside after frying. In the remaining oil, add cumin seeds, cardamom, bay leaf, cinnamon stick, clove, and green chili. Sauté for a minute. Then add onion paste, ginger paste, turmeric, salt, and sugar. Cook for 4 to 5 minutes in low heat. TIP: The sign of a well done masala (i.e. the mixture of all the ingredients you have added to the oil) is when you see the oil is separating from the mixture. Now add the coconut milk and fried prawns. Let them boil for 4 minutes. You can adding more coconut milk to adjust the quantity of the gravy as you desire. Drizzle the ghee (optional) and garam masala. Cover the pan and turn the heat off.
Enjoy with jeera rice!