28 August 2020
Shukto / Mixed Vegetables in Milk Gravy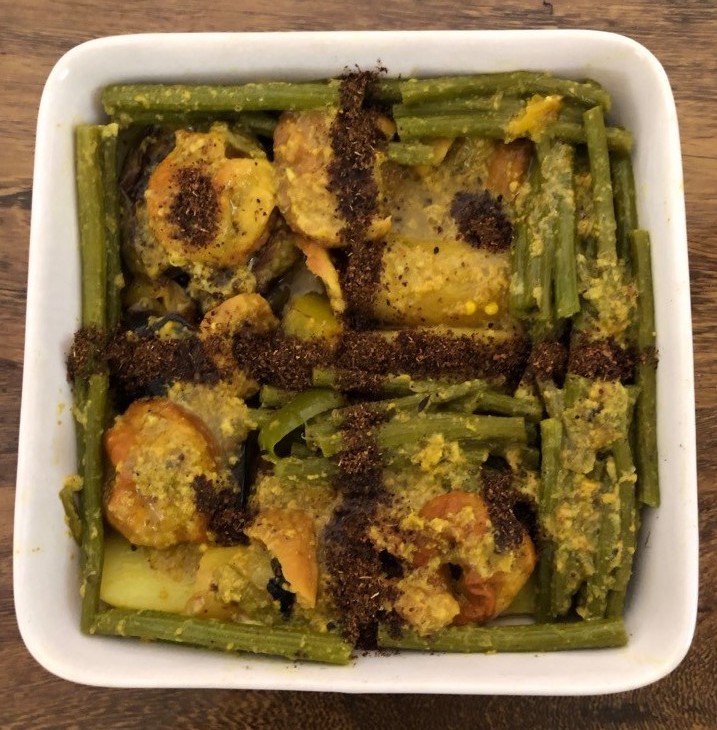 Shukto is a traditional Bengali recipe. In every special occasion like festivals, weddings, and birthdays, where there is a lunch party, shukto initiates the meal with hot rice and ghee!
This recipe requires a lot of ingredients, some of which are seasonal and some are very difficult to find outside of India in normal grocery stores. For example, Bori / sun-dried lentil nuggets are a very typical Bengali ingredient, often made at home! Good news is that even if you don't have all the vegetables or the Bori, you can still make it!
NOTE: as the directions indicate, you will only need a small portion from each vegetable.
Ingredients
1 Potato
1 Sweet potato
1 Eggplant
3 Any kind of green bean (french or hyacinth)
1 Green Plantain
1 Pumpkin
1 Bitter Gourd
1 Bottle Gourd
1 Drumsticks
1 Daikon
1 Taro
Oil 4 tbs
Panch phoron 1 tsp
Bay leaf 1
Dry red chili 1
Ginger paste 1 tsp
Turmeric 1/2 tsp
Salt to taste
Sugar 1 tsp
Milk 1 cup
Ghee 1 tsp
Directions
Shukto is all about style and technique. The vegetables needs to be cut in a specific way and the spices need to be used at the right time. Peel the vegetables except the eggplant and the bitter gourd. Then cut all the vegetables in a rectangular shape about 2" long and 0.5" wide. Take roughly two pieces of each vegetable to get approx. 2 cups of vegetables overall. Heat a pan in medium and dry roast the panch phoron. Then make a powder from it with the help of a rolling pin or mortar and pestle. Keep them aside. Add oil in to the pan in medium heat and fry the lentil nuggets. Keep them aside. In the same oil sauté all the vegetables till they are light brown. Keep the vegetables in one side of the pan and add chili, bay leaf, ginger, turmeric, and salt. Mix everything and cook for 5 minutes in low heat. Then add 1 cup water, 1 cup milk, and the fried lentil nuggets. Cover and let them cook for 10 to 15 minutes so that the vegetables become tender and the gravy reduces to 1/3. Add sugar and ghee and mix lightly. Turn off the heat. Sprinkle the ground panch phoron. Done! This is typically served with rice.
Enjoy your lunch!